Hey guys! Timzster here to present the long awaited return of BeatCast! Mark and I have been MIA in the podcast scene, but we're finally back, and to celebrate, we cover and discuss highlights about last week's mega ultra pop culture event - The San Diego Comic Con! Here ya go, and enjoy listening!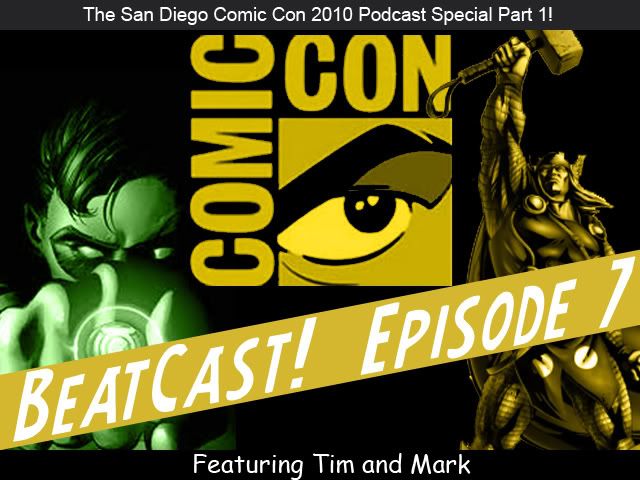 After quite an absence, BeatCast is back, and just in time to discuss about the highlights of one of the planet's biggest popculture events - The San Diego Comic Con!

In the first of a two part SDCC Special, Mark and I gather our thoughts and impressions on the con as a whole, looking back on its history, influence, and the impact this year's installment made on its first few days. From the exhibition and revelation of more characters in Marvel Vs Capcom 3, to the toys and movie related news of Marvel and DC Comics upcoming films, we could barely contain our excitement as we looked back at the big news delivered on the show floor. With so much happening and so many people checking the web just to find out the latest and greatest happening in the comic book industry and beyond, it's no wonder why people want to go there, proclaiming "Comic Con or Bust"! Well, here's the first part of our SDCC '10 Special, so enjoy and keep on rollin'!

Download Episode 7

On the second part of our San Diego Comic Con Podcast Special, Mark and I check out the highlights of the con on the weekend, specifically the big BIG announcement Capcom producer Yoshinori Ono makes during the Street Fighter Mania Panel Discussion! Also, we discuss what went down during the Cowboys and Aliens panel, and which celebrity made his very first visit to San Diego that day! Then we move on to what is probably the biggest event of this year's SDCC - The formation and confirmation of the Avengers movie cast and crew during the Marvel Studios Panel! All this and more of our reactions can be heard in this second and final part of the BeatCast! SDCC Podcast special! Give it a listen and enjoy!
Download Episode 8